Class of '71 SM HOF
Welcome to Class of '71 St. Mary's Hall of Fame Page
2018 John Roeslein; Individual Athlete
October 27, 2018 Long overdue, classmate John Roeslein was inducted into St Mary's Hall of Fame. John played varsity soccer all 4-years at St Mary's and was a big part of the 1970 Missouri State Champion Team. It was John who recruited classmate and now fellow SM HOF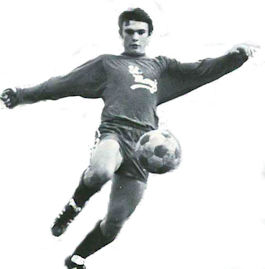 memeber Frank Flesch to play Dragon Soccer. John is also a member of the St Louis Soccer Hall of Fame.
1963 CSMAC Youth Soccer Team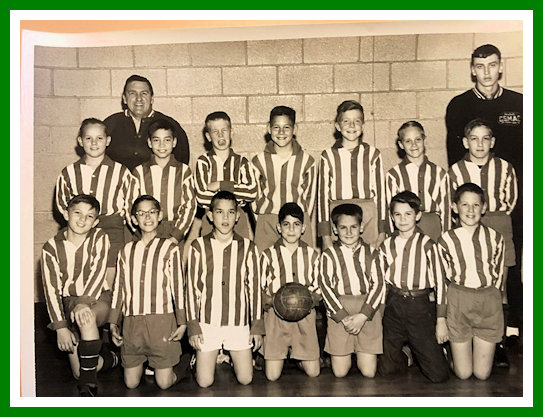 Tom Fitzsimmons provided the above photo in which he is pictured as well as John Roeslein. Tom and John are at opposite ends of the kneeling row. One or two other dragons are in this photo. The boy in the second row making the silly face is John Heet. Dennis Rhode is standing behind Tom. There may be other dragons I don't recognize. Also if you have any photos to help commorate John Roeslein's induction, please send them so they can be posted here.
Join us at the class of '71 table
Saturday October 27
St Mary's HOF Banquet
Get tickets online, which is preferred,
by visiting www.smhsaa.com
or if by post, please mail this form with payment to
SM HOF/Jan Godefroid
4701 S. Grand Blvd.
St. Louis, MO 63111
Please make check to;
St. Mary's High School Alumni Association.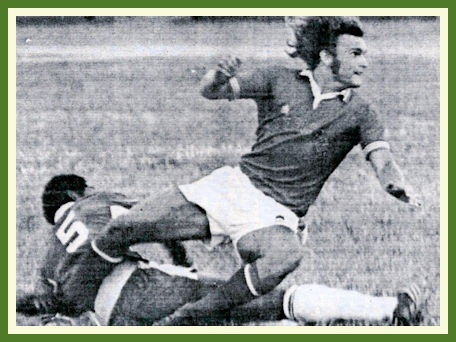 Tony Davis of the HOF committee provided this photo of John Playing for the Americans vs Connecticut Yankees
In this match John scored 2 goals in the 3-0 victory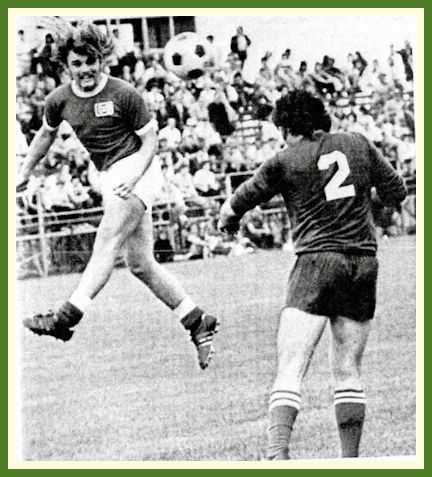 Playing for St Louis Pepsi John with a header in a game against
Chicago Coatians for the Midwest Open Cup Title.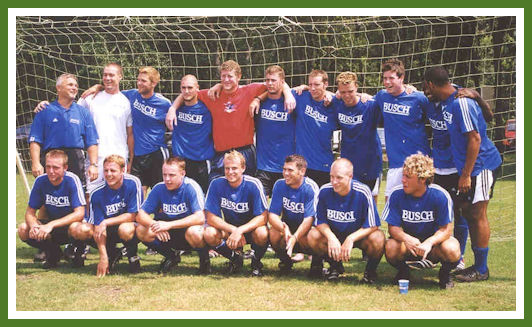 John went on to successfully coach Busch Soccer
_____________________________________________________________________________
2012 Frank Flesch; Individual Athlete
At a sold out banquet on November 17, 2012 over 400 were present in St. Mary's Gym to honor all 2012 inductees along with Frank Flesch as they entered St. Mary's Hall of Fame.
Many of us remember Frank as the always smiling, wise-cracking guy wearing the big St Mary's letter sweater. We may even reacall he was a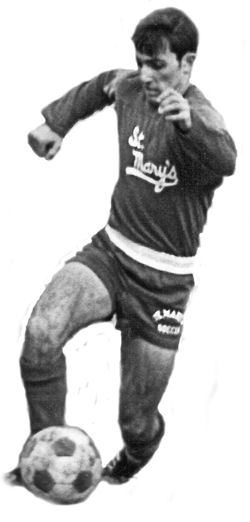 key member of the 1970 State Champion Soccer team. We may not be familiar with all of his athletic and other activities. On this page we honor Frank's accomplishments that gained him entry into St Mary's Hall of Fame.
Fun Facts about Frank
Frank didn't play soccer at SM until his junior year. Frank was recruited by John Roeslein '71 to play on what was to be the 1970 Missouri State Championship team.
Frank's chosen sport was baseball. As a freshman at St Mary's it was Frank's great speed that got him cut from the team...Coach Newhouse wanted him for track!
Frank lettered 3-years as a Varsity Band flute player!
Both Frank's sons; Tom and Frank II were on St Mary's championship athletic teams. Frank II played on the 2000 State Champion soccer team. Tom played on the 2002 State Champion runner-up baseball team.
Fall 1969, playing B-team football at SM wearing number 41 (soon to be Tom Garavaglia's number) Frank, channeling Mike Summers '68, was called up to play varsity football for the final two games of the season.
Frank played C-team basketball. Always displaying good sportsmanship, Frank never once slam-dunked the ball.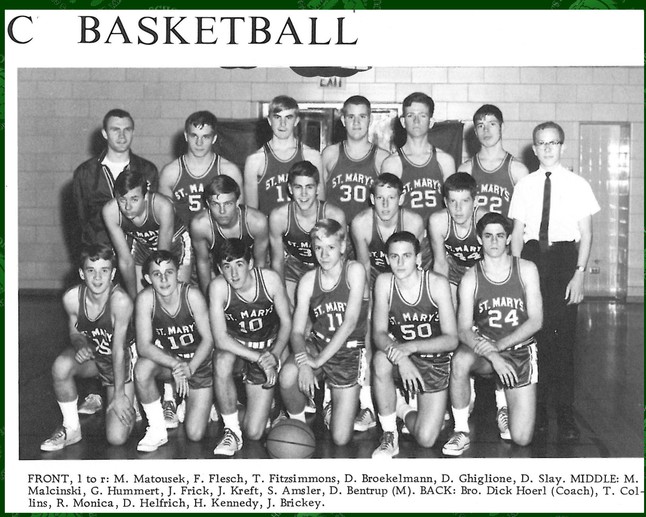 The following was submitted 12-2-2011 on Frank's behalf to St. Mary's Hall of Fame Committee.
Tony Davis; President St Mary's Alumni Association,

Again, thanks for doing such a nice job last night at the SM Alumni Christmas Party. Happy to learn we agree Frank Flesch should be inducted as an individual athlete into St Mary's Hall of fame. Being classmates of Frank's we witnessed first hand his athletic abilities while at St Mary's. At every match all of us were thrilled watching his skill and agility on the soccer field. What made it more exciting was, with Frank's explosive speed and power, he played like a man twice his size. Being the consummate nice-guy, Frank transcended clicks and petty squabbles that often occur in high school and was truly liked and respected by every teacher, coach and member of our class. As his classmates and friends, we are honored nominate Frank Flesch for the St Mary's Hall of Fame.

Attached is the dossier as promised. If you need additional information please let us know.

Best regards,

Daniel Armbruster '71,
Rick LaGrotta '71
Frank J. Flesch
St Mary's Class of '71
St Mary's High School Hall of Fame Bio
Nominated by: Rick LaGrotta and Daniel Armbruster on behalf of SM class '71
Soccer:
Youth leagues
SECO Jets - National Junior Cup Champion - 1971 (Coached by T.D. Vasquez)
St Mary's Soccer
1969-1970 State Championship team
1970-1971 Runner up State Championship team
1971 Soccer – MVP

University of Missouri Saint Louis
1973 NCAA Division II National Soccer Championship team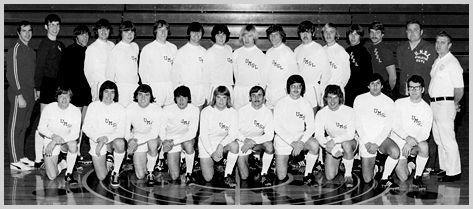 1971, 1974 Outstanding College Athlete of America
1974 All Midwest Selection
1974 Selected to Participate in the Senior Bowl
1974 MVP
1974 Recipient of the Timothy F. Smith Leadership & Sportsmanship Award
1971-1974 Career Scoring Leader
2004 Inducted into UMSL Sports Hall of Fame
Professional
1975 #1 draft-pick Denver Kicks of the NASL
Adult Club play
1971-1980 Kutis Soccer Club
League champion 1972, 1973, 1974, 1975, 1976, 1977, 1978
Missouri Open champion 1973, 1974, 1975, 1976, 1977, 1979
John Marre Cup champion 1977
Kutis St. Louis All-Star (All-Stars vs. VFB Stuttgart) - 1978
Kutis St. Louis Stars Booster Club - Outstanding Amateur Player Senior Division - 1974
Other Honors
2012 elected Treasurer of executive board of St Louis Soccer HOF
2009 Inducted into St. Louis Soccer Hall of Fame
1993 Inducted into St Mary's HOF with 1970 State Champion Soccer Team
Coached
Youth Soccer
Multi-Sport Athlete at St. Mary's
St Mary's Track 1968, 1969, 1970
St Mary's B-Team Football 1968
St Mary's C-Team Basketball 1967-8
St Mary's C-Team Football 1967
Meritorious Service to St Mary's High School
2011 volunteered for many weeks to inventory, codify and manage bequeathed assets of Leo's Liquor Store for the benefit of St Mary's High School
St Mary's Alumni Association 20+ years
President: 4 years
Vice President: 2yrs
Treasurer: 4yrs
Secretary for 4 yrs
Past President
Currently chairman of the finance committee of St Mary's Board of Directors
20-years St Mary's Football Home game play-by-play announcer
Father of two St. Mary's Graduates
Class of '71 perennial reunion co-chairman
2009 when Frank was inducted into the St Louis Soccer HOF the following was posted in the program:
POSITION PLAYED: Wingback
YEARS PLAYED: 14

1971-74 UMSL
1971-80 Kutis

CHAMPIONSHIPS:
1973 UMSL NC-NCAA Division 2 National Champs
1972-74-75-76-77-78 Kutis St. Louis League Champs
1977 Kutis MO Amateur Cup Champions
1977 Kutis Johnnie Marre Cup Champs
1973-74-75-76-77-79 Kutis MO Open Cup Champions

HONORS & AWARDS:
1972-74 UMSL Outstanding College Athlete of America
1974 UMSL All Midwest Selection
1974 UMSL Selected to participate in Senior Bowl
1974 UMSL MVP
1974 Timothy F. Smith Sportsmanship Award Recipient
1975 Drafted by Denver Kicks (NASL)
2004 UMSL Inducted into Sports Hall of Fame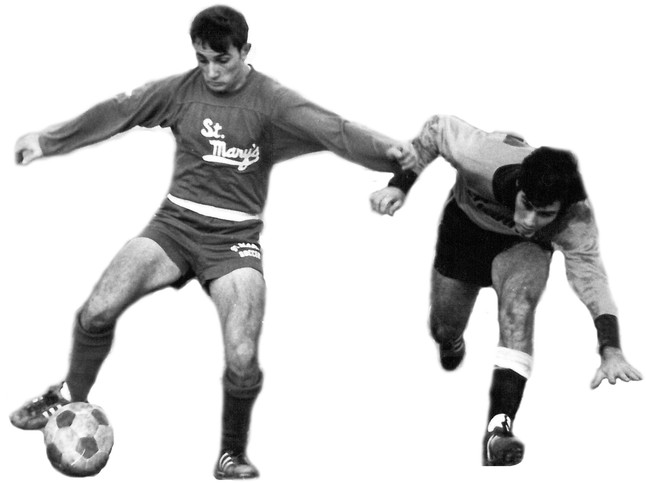 Click here to visit the Frank Flesch Photo Page
1994 1971 Football Team
In the second year since the inception of the St Mary's Hall of Fame the 7-1-2 1971 Football Team was inducted.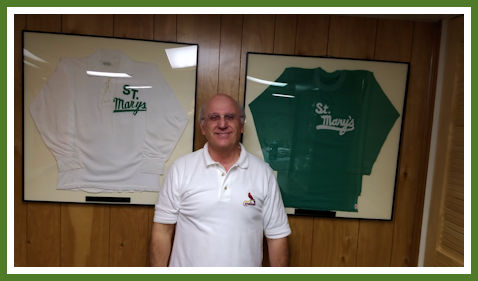 Above is a 2019 photo of Frank standing with his framed home and away SM jerseys